WELL ID is a current provider of data rich Logging-While-Drilling (LWD) Services to the Oil & Gas and Geothermal industries.
All Services are performed by WELL ID`s experienced engineers, with background from Logging-While-Drilling, Petroleum engineering, geology, geo-steering and petrophysics.
---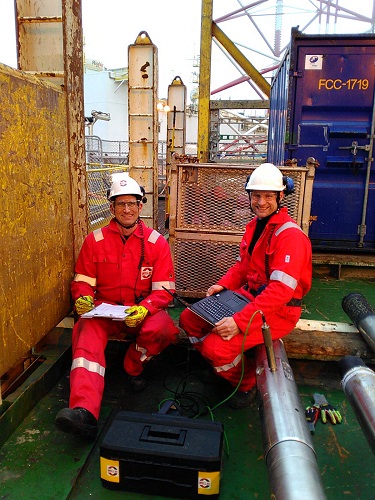 WELL ID delivers Logging-While-Drilling equipment to offshore operations.
The offshore services performed by WELL ID are typically delivered as a complementary service to any existing Logging-While-Drilling contractor and ran in memory mode (i.e. does not impact any existing MWD/LWD provider).
In addition to delivering LWD equipment to offshore operations, WELL ID also offers offshore personnel for optimizing of drilling parameters without the use of equipment.
Borehole Imaging
Fracture, Bedding and Fault logging
Borehole Shape and Size
Petrophysical Interpretation
Drilling Dynamics, up to 5000Hz
There is only need for one person to run the tool offshore. WELL ID has senior offshore personnel with a wide range of LWD-experience.
---
When WELL ID has offshore operations, an onshore team can also be involved in the operation.
---
WELL ID can offer a range of Services to the customer based on novel data analysis of the surface data and downhole data. DrillEnlight is a software package designed specifically to handle large amounts of data. DrillEnlight also enables the user to quickly zoom into details of big data to discover what is going on downhole. A key is how we automatically time synchronize and correlate different datasets, for example downhole 5000Hz drilling dynamics with surface drilling data at 20Hz. By using DrillEnlight we can detect the best drilling parameters for your well.
We have documented that widely accepted drilling practices in the industry may be suboptimized. A predominant reason is the lack of frequent sampled and stored measurements from downhole sensors. WELL ID exploit such frequent measurements to increase drilling performance and reduce Non-Productive Time. If you are interested in learning more, please read the SPE paper linked below:
SPE Paper - "Analysis of Torsional Stick-Slip Situations from Recorded Downhole Rotational Speed Measurements"
---
Cooperation is one of WELL IDs core values. To optimize the drilling, we strive to have a close dialogue with the customer from the operation pre-meeting, during offshore operation and post meeting. WELL ID starts every drilling improvement by looking at downhole parameters and analyze this to make a status of situation. With the WELL ID tools we can detect hole geometry and extreme vibrations, and if there are, we must find a solution for the safety concerns before we work with drilling performance. We can illustrate the WELL ID Drilling Approach with the figure below:
Drill faster
Drill longer
Less vibrations and failures
The record runs in North Sea wells prove that the WELL ID Drilling Approach is extremely efficient and of high value for the customers.
We always try to give the best service and optimize the value for our customers. Our customers are highly satisfied with our work. In 2020 we received the "Global Supplier award" for our work performed for ConocoPhillips in 2019.
---
WELL ID was one of the winners of ConocoPhillips global "2019 Supplier Recognition Award Program".
We always strive to reduce drilling vibrations, improve drilling efficiency and rate of penetration, through innovation and challenging existing practices- all backed by big data. WELL ID has the highest focus on delivering service quality & customer value and it is fantastic to see that our efforts and results are globally recognized by ConocoPhillips.
WELL ID won the price in the category "Doing Business Better". See the link below for more details:
2019-supplier-recognition-award-program